Journal of Clinical and Translational Research
Source: Whioce Publishing      By: Tom           Updata: 14-07-2021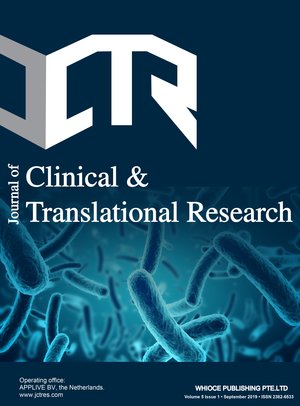 ISSN: 2424-810X (online)
ISSN: 2382-6533 (print)
Journal abbreviation: J Clin Transl Res
Publication frequency: Bi-monthly
Article processing charges (APC): Currently free of charge
Publishing model: Open access
Established since: 2015
Calculated 2-year impact factor (2020): 3.3, unofficial, based on Google Scholar
Calculated 4-year impact factor (2020): 6.4, unofficial, based on Google Scholar
Overall rejection rate: 33%

Aims and scope

The Journal of Clinical and Translational Research (JCTR) is an open access, peer-reviewed, multidisciplinary scientific journal that publishes studies with at least an ex vivo, in vivo, or clinical component. The published research is centered on any clearly defined clinical problem, which may comprise a disease or the basis of disease, a form of therapy or intervention, and clinical diagnostics or prognostics.
Articles (original research, reviews, technical reports, medical hypotheses, commissioned articles, special issue articles, and editorials) are published continuously online and bimonthly in print.
Studies performed in cells only will generally not be accepted unless they contain critical data that are in line with the scope of the journal. Some examples of such studies include molecular pathways that lie at the basis of a disease, novel biotechnological approaches for e.g., the production of drugs, or new techniques that improve clinical diagnostics and prognostics. Articles that combine preclinical and clinical data are given priority. Contributions from academic institutions and industry are welcome.